Jodhpur – The Blue City
Jodhpur – The Blue City
Royalty and grandeur all around!! The charm and ethnicity is deeply embedded in Jodhpur, also called the sun city for the first rays of the sun embracing it. This city is a bliss for someone who wants to travel back in times of princes and forts and palaces!! Goes without saying that the best time to visit Jodhpur (and any other place in Rajasthan) is winter. We visited Jodhpur for a short trip in August 2017 when it was hot and sunny. Nevertheless we did not let the heat beat our high energy and excitement levels. Come, lets have a virtual tour of Jodhpur, the blue city.
Day 1 : Mehrangarh Fort, Jashwant Thada and Umaid Bhavan palace
Mehrangarh fort: This fort is one of the most magnificent forts of not only Rajasthan, but of entire country. It is located on the top of a rocky hill and took centuries to get fully constructed. Given the height and width of the fort, it surely gave huge protection and strength to the city. The name means sun (Mehran) and fort (garh). The best part about the fort is that govt has made visible efforts to make it very tourist friendly with brilliant quality audio guides and elevators at a little extra cost. Inside the Fort are nested temples, throne of the Rajaji, traditional marwadi paintings,  arms and ammunition's of the army etc. On the top of the fort we were awestruck to see "topo ki qatar" i.e. A queue of cannons to protect the city from invaders and enemies. While heading back, we took the slope way and were mesmerized with the views of the Blue city the fort offered. It was breathtaking and supreme!!!
Entry fees : Rs 75 for Indian nationals and Rs 500 for foreign nationals 
Time taken: 2 hours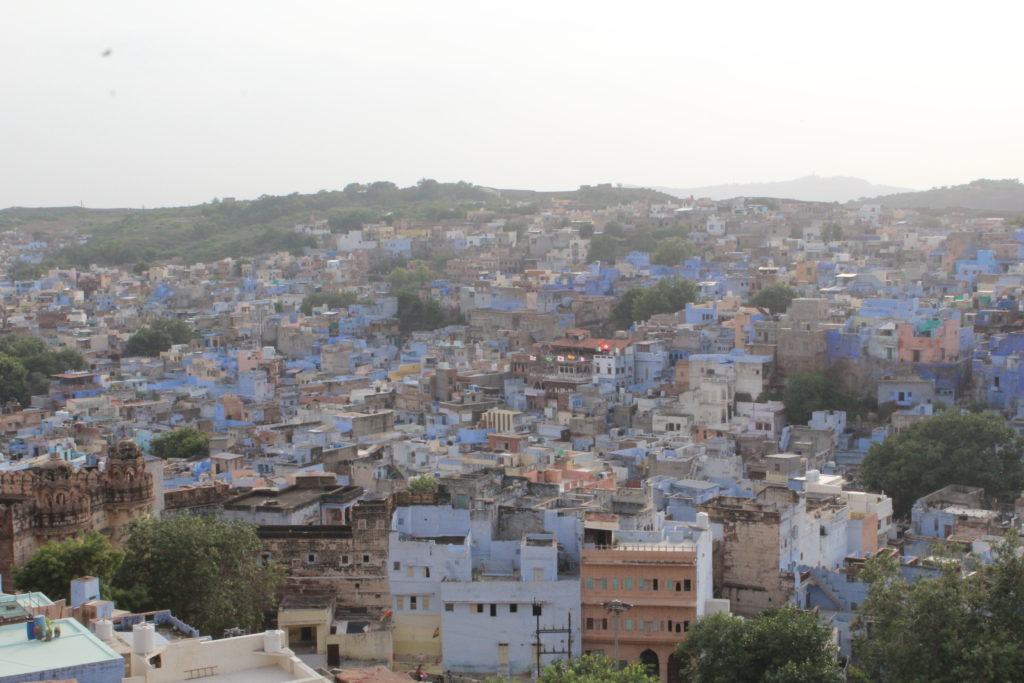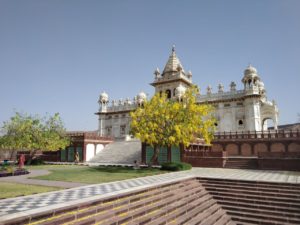 Jashwant Thada : Located just a kilometer away from Mehrangarh fort, this is a cenotaph built for Raja Jashwant Singh II. You will have to walk down a rocky road to reach this place. Cenotaph is derived from a greek origin meaning kenos (empty)  taph (tomb). This place is rightly and famously called the taj mahal of marwar, as it has got remarkably awesome carvings on very thin sheets of marbles giving it the feel of a temple . The structure looks beautiful when rays of sun strike its milky white marble. Portraits of the Maharajas of Jodhpur adorn the walls of the memorial. In the front are minutely and beautifully carved gazebos,  garden and a small lake.
Entry fees : Rs 15 for Indian nationals and Rs 30 for foreigners. Camera and videography Rs 50 extra.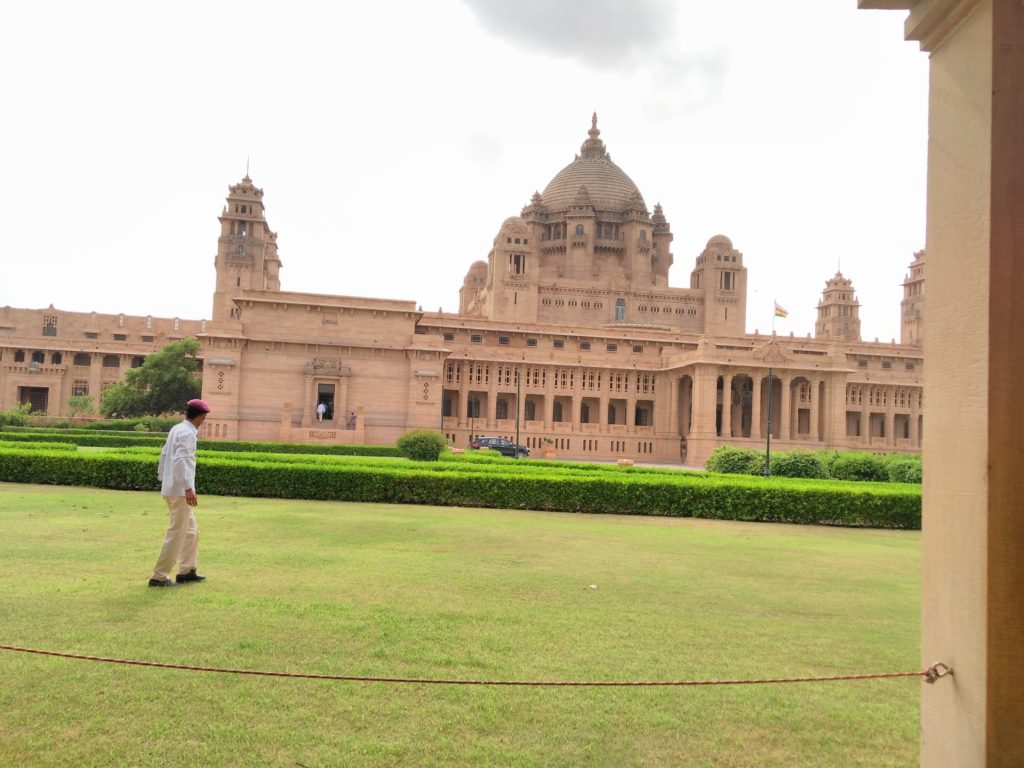 Umaid bhavan : Grand , Modern and Beautiful!!! This sums up our visit to the splendid Umaid Bhavan. This palace is named after Umaid Singh Maharaja between 1929 and 1944. The palace is built in art deco style since the maharaja liked the western architecture. The palace consisting of around 350 rooms is divided in three parts : first part resided by the Maharajas family, second part converted into a hotel (awarded the best hotel in the WORLD!!) and a very small part kept open for visitors as a museum. The museum has depictions of the maharaja times like collections of cutlery, clocks, paintings, furniture etc. What's different here from other city palaces of Rajasthan is the display of royal family owned vintage cars which is exhibited right opposite to the palace.  Truly the best crown any city could adorn!!
Entry fees: Rs 30 for Indian nationals and Rs 100 for foreigners
Time taken: 2 hours
Day 2: Osian village, shopping and Balsamand Lake
This was our second day in Jodhpur and we decided to start it the religious way. Off we went to sachiya mata's temple in osian village who is our "kuldevi"(mother goddess). The place is 60 kms away from Jodhpur and the roads are damn good for a pleasant drive. While there were too many stairs to be climbed to reach the temple, the stairs had beautifully carved arches to make the ascent exciting. The temple is an old classic one and is very peaceful. No photography allowed inside. This place is frequented by foreigners too due to its architectural bliss. Food and stay options are there but limited so plan your travel accordingly.
Alternate plan : Post visiting the temple you could also plan to stay back in the desert camps of Osian village. They offer events like camel safari, folk dance, bonfire at night, jeep safari. How about enjoying Jaisalmer and Jodhpur at about the same time??? Sadly, we could not visit as we were short of time.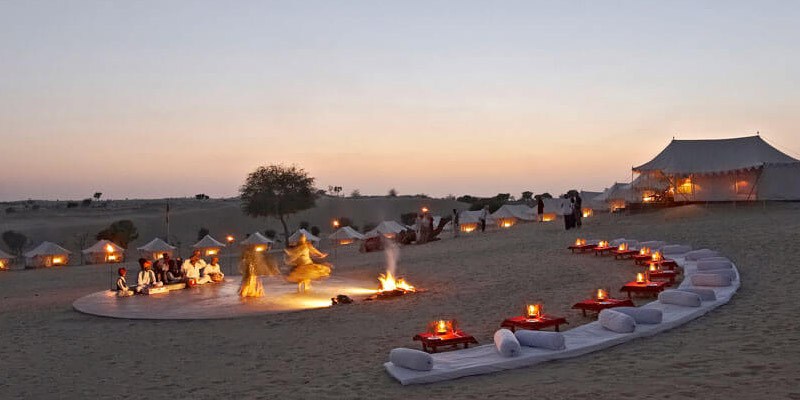 How could a trip in Rajasthan end without shopping. Once back to Jodhpur city , we visited the nai sadak near clock tower and sardar market for some authentic Rajasthani shopping. The place looked like some fun fair due to its vibrance and bright hues.. Bandhej (Tie and die) sarees and dresses along with traditional jootis had flooded the markets. A bit of bargain can make u buy awesome stuff at amazing rates.. A good experience.
Our evening was very well spent at the Balsamand lake. We were also staying at the Balsamand lake palace. People could  come only for bird watching and picnicking to the lake. We thoroughly enjoyed the windy breeze, the stroll in the gardens and the beautiful view. Its not necessary to stay at the hotel and you could come just for dinner as well in their garden area.
Balsamand Lake Palace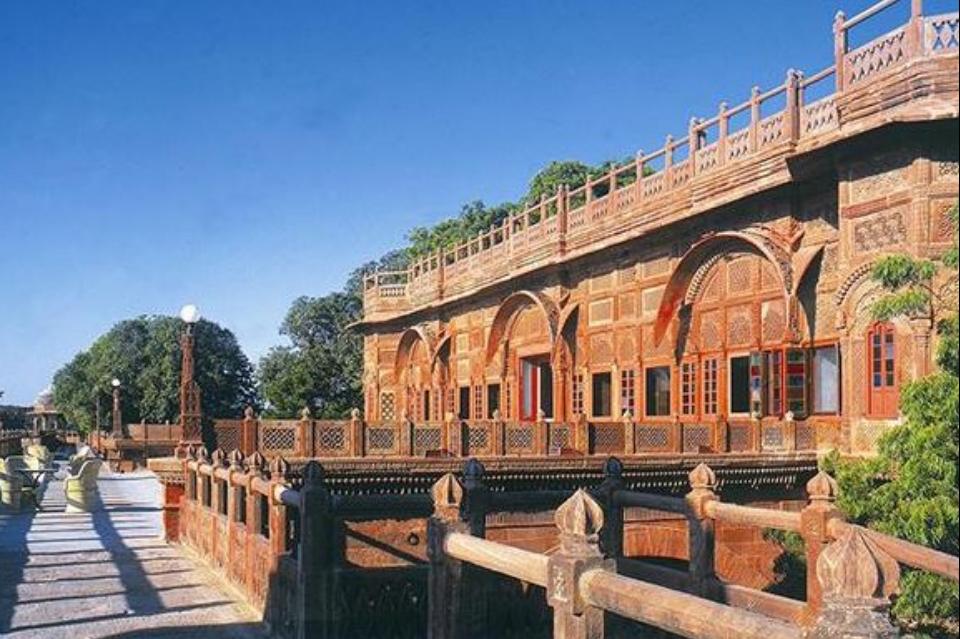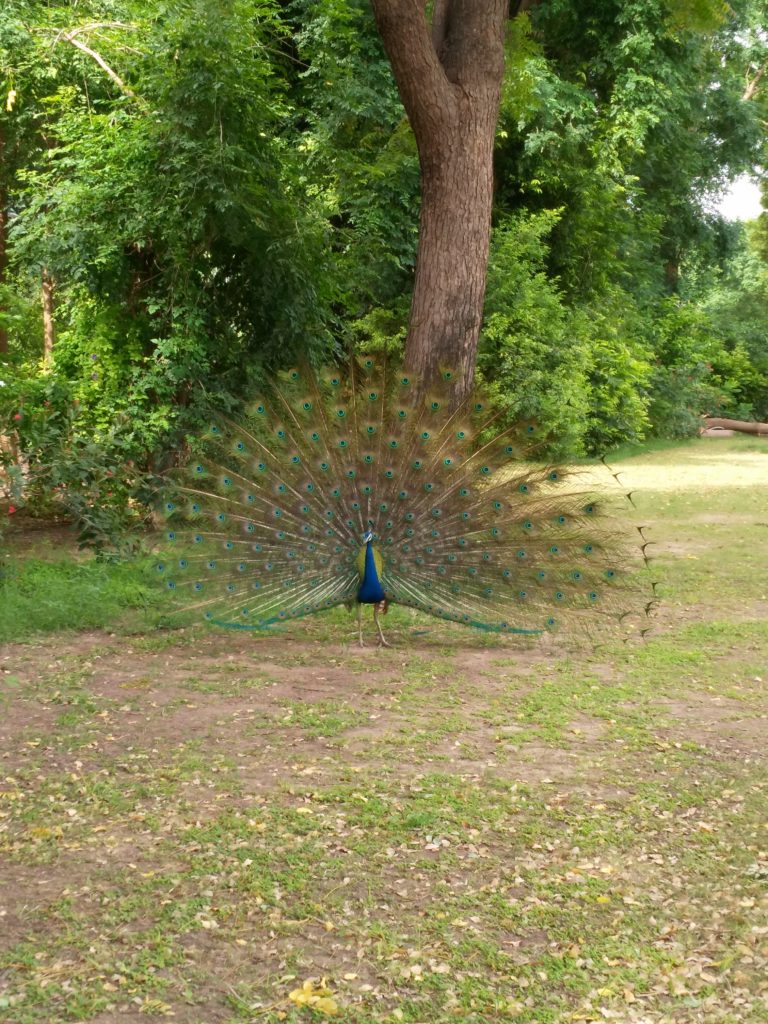 I usually suggest 4-5 categories of stays for all budgets but in Jodhpur I would go with one and only Welcome heritage Balsamand Lake palaces. It looks like the palace is built on waters of the lake and the view is simply superb. This place used to be the summer palace of the royal family and is now owned by members of royal family. Humongous in area, it has got lush green gardens with tagged trees and plants. There are horses in the hotel whom the staff helps visit in the wonderfully maintained stable area. Now comes the highlight of the place : Plenty of peacocks (the place is said to have 200 of them) and a variety of other birds (we saw around 10 different species) . Since we visited in monsoon,  we could see one peacock every 200 metres we walked. They were seen dancing and heard just everywhere. Staff was very friendly, rooms spacious, breakfast delicious. Awsome stay indeed.
Places to eat in Jodhpur
Lip smacking Rajasthani food is famous throughout. In jodhpur, we hogged like there was no tomorrow.. Here goes the list..
Mishrilal Sweets or Janta Sweets – Enjoy makhaniya lassi (The creamy sweet curd), the mava kachori ghevar, pyaz kachori & mirchi badas as these are must haves in Jodhpur!
Gypsy restaurant– this place is a must visit while on a trip to Jodhpur. The restaurant is very well known for its sumptuously delicious thali it offers with around 31 dishes and costing just 300. Got to try it.
Jharokha – a rooftop restaurant in haveli hotel, old Jodhpur, this place offers splendid views of the lit Mehrangarh fort and the blue city at night. Not heavy on the pocket this restaurant offers awesome rajasthani and north indian cuisine.
Indique ristorante – another roof top restaurant offering view of the market area of Jodhpur. Providing a view of the fort on one side, gulab sagar lake on the other and clock tower on the third, this place is very famous for its lal maans and other regional dishes. Slightly on the higher side as far as cost is concerned, its worth a visit for the view. Pro tip reach there by evening so that u could see the setting sun and lightings of the fort(lighting are only till 10 at night)
All I can say is like all other places of Rajasthan, Jodhpur also was Regal & Ravishing !!!!!