Bhutan – The Last Shangri-La
Bhutan – The Last Shangri-La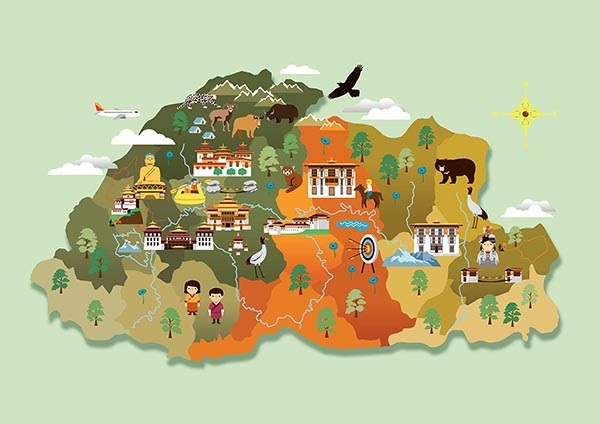 Are you fond of panoramic valley and mountain views?? Do fresh air and colourful streets attract you? Is religious culture and astonishing architecture your kinda thing?? If the answer to all of these is YES, get headed to Bhutan, NOW.. .. Bhutan is a small kingdom lying in the eastern part of Asia. The government allowed tourism only from 1974, that too limited and controlled tourism as it didn't want to increase tourism revenue at the cost of its rich culture and unspoilt landscape.
We visited Bhutan in July 2015; Our experience (not just an itinerary) goes like this:
THIMPHU (02 NTS) – PUNAKHA (03 NTS) – PARO (03 NTS)
DAY 01 – ARRIVAL AT PARO AIRPORT – THIMPHU
On arrival at Paro Airport (which was like a flight to wonderland with Mt.Everest, Mt.Kanchenjunga below us) and after completing our Visa / Permit formalities we started towards Thimphu (2320Mts / 7656Fts, 65 Kms / 01½ to 02 Hrs), Thimphu is the capital town of Bhutan and a center of government, religion and commerce. Its a unique city with unusual mixture of modern development alongside ancient traditions. It is a lively place inspite of being a capital town. Home to civil servants, expatriates and monks , Thimphu maintains a strong national character in its architectural style.
DAY 02 – THIMPHU
Places covered: Memorial Chorten, Tashichho Dzong, Changangkha Lhakhang, Drupthob Goemba, Institute for Zorig Chusum.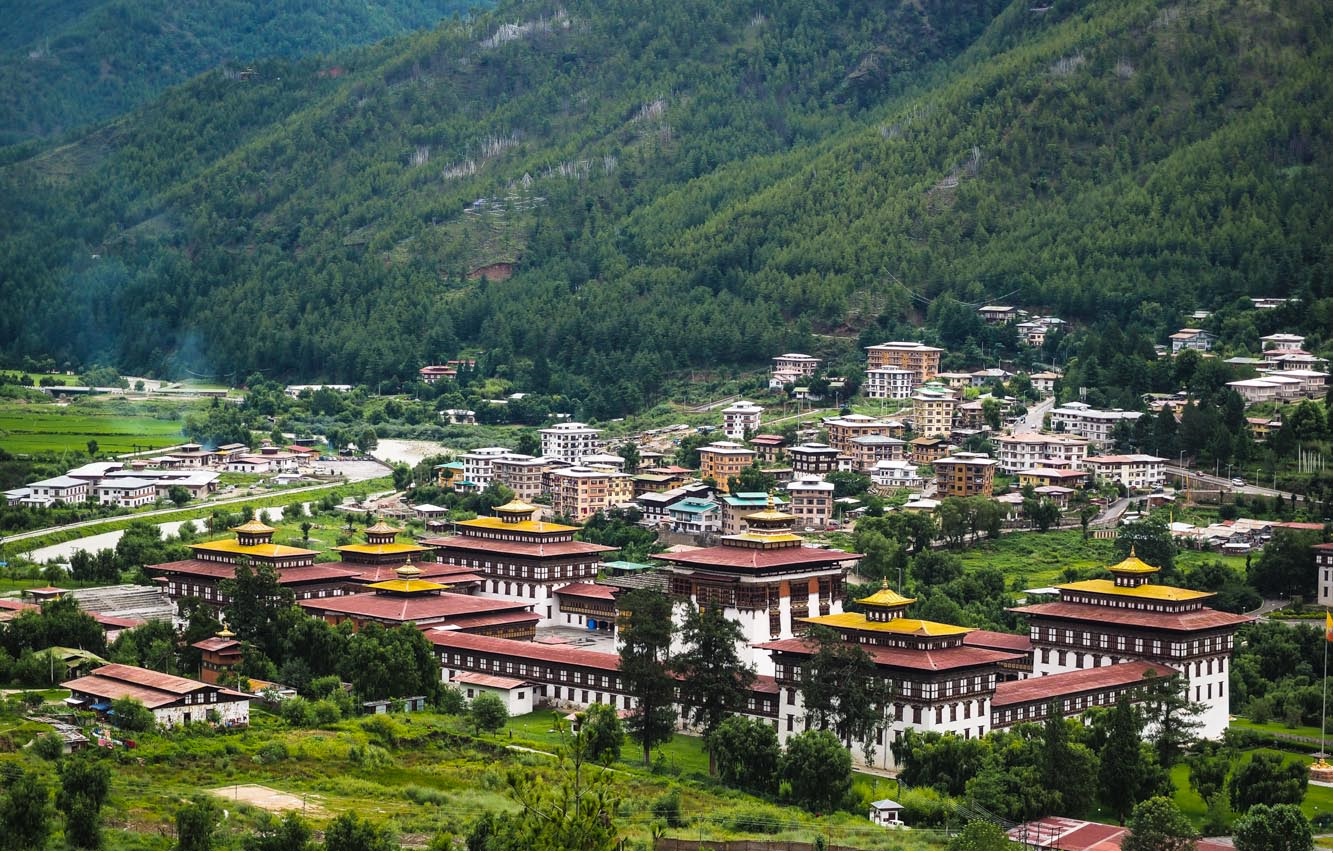 Memorial Chorten – This place is known to be "the most visible religious landmark in Bhutan". The Chorten was built in 1974 to honor the 3rd King of Bhutan, Jigme Dorji Wangchuck. It is a prominent landmark in the city with its Golden Spires and Bells. In 2008, it underwent extensive renovation.
Tashichho Dzong (All tourists visiting Dzongs and temples must be dressed appropriately. No half pant, sleeve less shirts, floaters, etc are allowed) – Also known as "Fortress of the Glorious Religion", Trachichho Dzong is one of the prominent monasteries as it houses the Throne room of His Majesty, the King of Bhutan.
Changangkha Lhakhang (Monastery) – This popular fortress-like temple perched on a ridge above central Thimphu regularly hums with pilgrim activity. Parents traditionally come here to get auspicious names for their newborns or blessings for their young children from the protector deity Tamdrin (to the left in the grilled inner sanctum, next to Chenresig). Don't leave without taking in the excellent view from the back Kora (Pilgrim path), with its lovely Black and Gold prayer wheels.
Drupthob Goemba / Zilukha Nunnery – Perched on a promontory, overlooking picturesque Trashichho Dzong and Golf course, it is the only nunnery in capital known as Zilukha Anim Dratsang.
Institute for Zorig Chusum (Traditional Art & Craft School) (Closed on Saturday, Sunday & National Holidays & During Summer & Winter Vacations) – The art taught today in Bhutan was introduced by the Great Treasurer Discoverer Terton Pema Lingpa in the Fifteen century. These traditional Crafts represents hundreds of years of Knowledge and ability that has passed down the generation. Bhutan unique artistic traditions have played a vital role in mounding its distinct cultural heritage.
DAY 03 – THIMPHU – PUNAKHA / WANGDI

After breakfast we started our drive towards Punakha (1200Mts / 3936Fts, 77 Kms / 03 to 3½ Hrs). Punakha is the last town on the highway before entering Central Bhutan. The drive is over Dochu La pass (3080Mts / 10102Fts) which is very scenic with magnificent views of mountains of Bhutan. Stopping briefly here to take in the view and admire the Chorten, Mani wall, and Prayer flags which decorate the highest point on the road. If skies are clear, the following peaks can be seen from this Pass (Left to Right):
Mt. Masagang (7,158Mts / 23478Fts), Mt. Tsendagang (6,960Mts / 22829Fts), Mt. Terigang (7,060Mts / 23157Fts), Mt. Jejegangphugang (7,158Mts / 23478Fts), Mt. Kangphugang (7,170Mts / 23518Fts), Mt. Zongphugang (7,060Mts / 23157Fts), a table mountain that dominates the isolated region of Lunana – Finally Mt.Gangkar Puensum (7,497Mts / 24590Fts), the highest peak in Bhutan.
DAY 4 – PUNAKHA – GANGTEY EXCURSION – PUNAKHA
Places covered: Gangtey & Phobjikha Valley, Black Necked Crane Information Centre, Gangtey Goempa
Gangtey & Phobjikha Valley (3000Mts / 9845fts , 85Kms / 3 to 3½ Hrs One way ) – Today we started early for full day excursion to Gangtey & Phobjikha Valley The valley of Gangtey is one of the most beautiful spots in Bhutan. Its a surprise to find such a wide, flat valley without any trees after the hard climb through dense forests in Bhutan where most of the valleys are tightly enclosed. A few kilometers beyond the Gangtey Monastery, on the valley floor lie's the village of Phobjikha. This place is the winter home of black necked cranes that migrate from the arid plains in the north to pass winter in milder and lower climate. Phobjikha lies on the periphery of the Black Mountain National Park. The valley boasts two beautiful meandering rivers, Nakay Chhu (Chhu Naap-black water) and Gay Chhu (Chhu Karp-white water). According to a local legend, the two rivers actually represent a snake and a boar. The two animals once raced each other with an agreement that if the snake (Nakay Chhu) won, Phobjikha valley would be able to grow rice, but if the boar won, then rice could never be cultivated in the area. The snake lost since it had to meander all the way during its journey. Rice cannot be cultivated in the valley even today.
Black Necked Crane Information Centre (Closed on Saturday, Sunday & National Holidays)– Situated on the edge of the forest and wetland along the main road of Phobjikha valley, the black-necked crane information Centre has an observation room equipped with high power telescope and spotting scopes for catching the best view of the cranes. The center also offers display information that outline the natural and cultural history of the area. There is a small gift shop, which sells handicrafts produced by the local people.
DAY 05 – WANGDI
Places covered: Punakha Dzong, Chimi Lhakhang
Punakha Dzong (Which is closed in winter months) – Built Strategically at the junction of Pho Chhu (Father) and Mo Chhu (Mother) rivers in 1637, by Shabdrung Ngawang Namgyal to serve as the religious and administrative centre of the region, Punakha Dzong has played an important role in Bhutan's history. Damaged by 4 catastrophic fires and an earthquake, the Dzong has been fully restored by the present King.
Chimi Lhakhang – Situated on a hillock in the centre of the valley,this place is dedicated to Lama Drukpa Kuenley, who in the late 15th century used humor, songs and outrageous behavior to dramatize his teachings and due to this also known as "Divine Madman". This temple is also known as the temple of fertility. It is widely believed that couples who do not have children and wanting one, if they pray at this temple, they are usually blessed with a child very soon. It is about 30 minute walk across field from the road to the temple. Later you go and visit Punakha Suspension Bridge where you feel that you are floating in the Air. Hence it is popularly known as Floating Bridge by locals.
DAY 06 – PUNAKHA / WANGDI – PARO
Places Covered: Ta Dzong, Rinpung Dzong, Kyichu Lhakhang
After breakfast we left for Paro (2134Mts / 7000Fts, 135 Kms / 05 Hrs).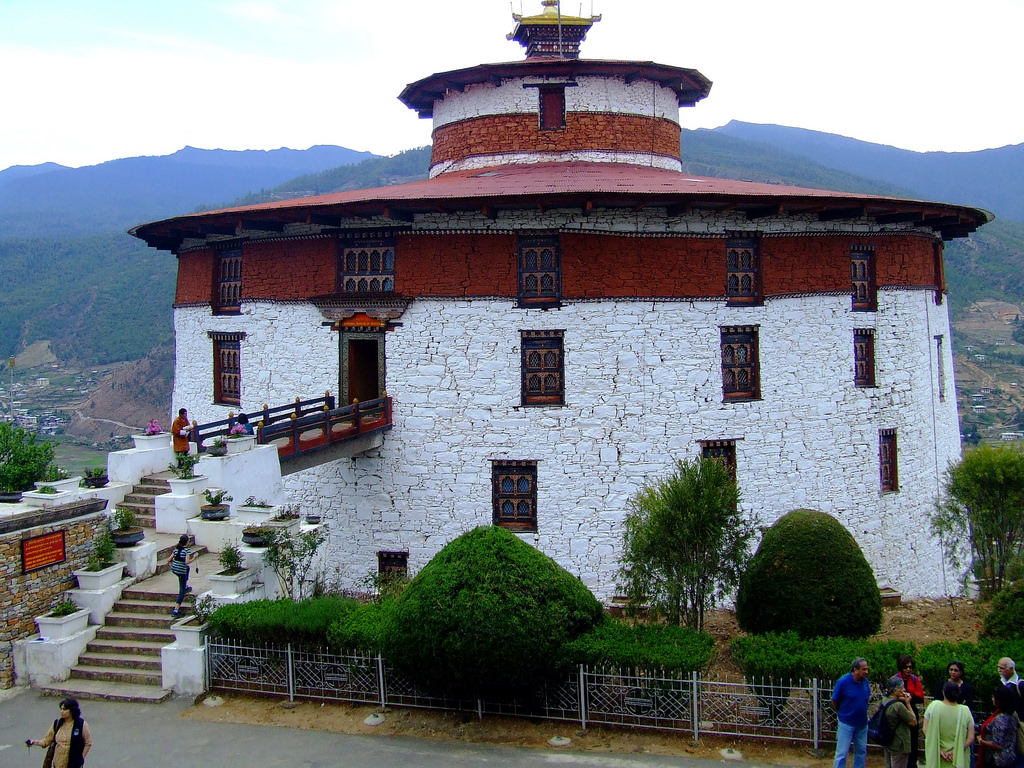 Ta Dzong (National Museum) – A tower built to defend Rinpung Dozng during inter-valley wars of the 17th century, since 1967 Ta Dzong is serving as the National Museum of the country. It holds fascinating collection of art, relics, religious Thankha paintings and Bhutan's exquisite postage stamps. The museum circular shape augments its varied collection displayed over several floors.
Rinpung Dzong – Built in 1646 by Shabdrung Ngawang Namgyal, the First spiritual and temporal ruler of Bhutan, the Dzong houses the monastic body of Paro, the office of the Dzongda (district administrative head) and Thrimpon (judge) of Paro district.
Kyichu Lhakhang – It is one of the oldest and most sacred shrines of the Kingdom dating back to 7th century (the other is Jambey Lhakhang in Bumthang). The Lhakhang complex is composed of two temples. The first temple was built by Tibetan King, Songtsen Gampo in the 7th century and in 1968, H.M. Ashi Kesang, the Queen Mother of Bhutan, built the second temple in original pattern, this is a popular monastery for wedding blessing among our travellers. Also go for a Airport View point to see Paro Airport.
DAY 07 – PARO – FULL DAY HIKE TO TAKTSANG LHAKHANG (TIGER`S NEST)
Places Covered: Taktsang Lhakhang (Tiger's Nest)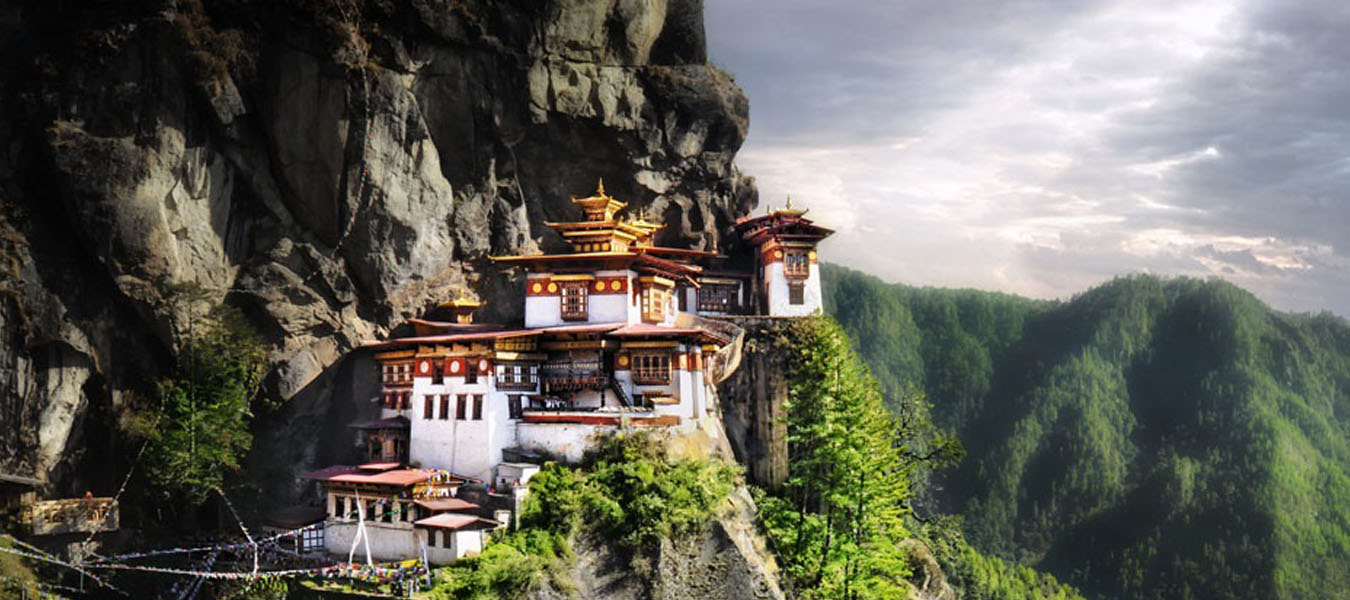 We started early for a day hike to Taktsang Lhakhang (Tiger's Nest) – The hike which is all the way uphill takes about 2½ hrs to 3Hrs one way through pine forests. The monastery clings to a huge granite cliff 900 meters from the Paro valley. It is the most famous monastery in Bhutan. It is said that Guru Rimpoche arrived here on the back of a tigress and meditated at this monastery and hence it is called "Tiger's Nest". On 19 April, 1998, a fire severely damaged the main structure of building but now this Bhutanese jewel has been restored to its original splendor.
DAY 08 – PARO – HAA VALLEY EXCURSION – PARO
Places covered: Haa Village, Chele-la pass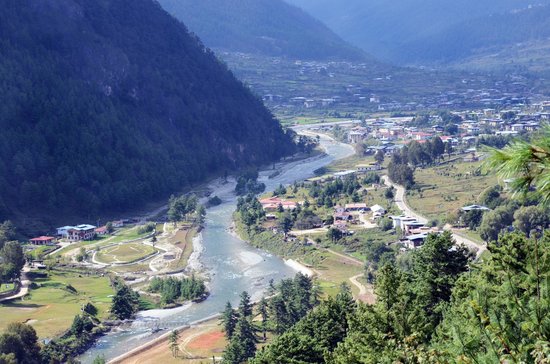 We again started the day early for a full day trip to Haa via Chele-la pass (3800Mts / 12465Fts, 65 Kms / 02 to 03Hrs – One way). After driving through Blue Pine & Rhododendron Forest for 45 km, reach Chele-la pass (3988Mts / 13081Fts). From this point one can have a superb view of Mt. Jhomolhari (7134Mts / 23400Fts) & Mt. Jichu Drake (6989Mts / 22924Fts). This is a very good place to walk around for few minutes enjoying the view. Drive on to Haa, descending all the way for another 22 km (under an hour's drive), finally reaching Haa. The Haa Dzong is presently occupied by military, but the view from outside is stunning.
We ended our trip with a lot of panoramic memories and kaleidoscopic experience. Bhutan, Log Jay Gay (See you again!) 🙂 For best places to eat and lovely places to stay, stay tuned! We will be right back.