Bali : Home of Hospitality
Bali : Home of Hospitality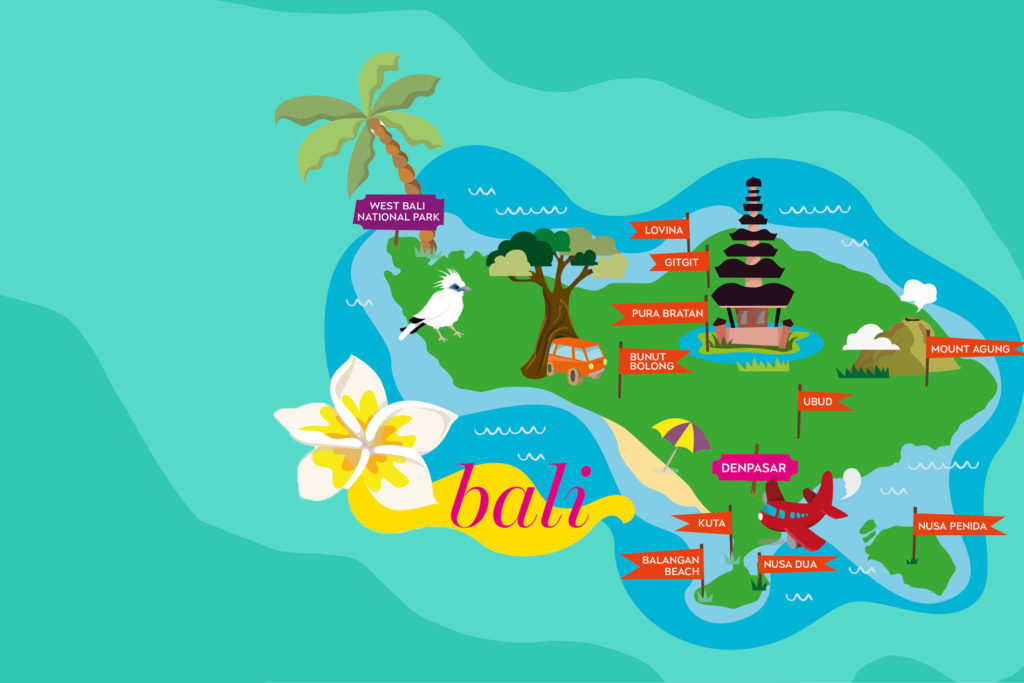 Hi folks!! Amongst all the places I have visited, Bali remains my special favorite. One of the main reasons for this is that it is the epicenter of world class hospitality and super helpful and duper loving people. We experienced ever smiling and extremely courteous culture in the Balinese people.
Bali is a set of breathtaking islands in Indonesia with everything you require for a simply perfect holiday; beaches, adventure, sights seeing, night life, luxury, nature and a lot more.
Stay:
You can divide your stay between two areas of Bali namely Seminyak and Nusa Dua. Seminyak is a busy town with lots of places to hangout and party so it is very popular with youth. On the other hand, Nusa dua is known for its peace, tranquility and beauty. It is quiet and relaxing with a stretch of luxury resorts along the beach side. So by dividing the stay you will have the best of both the worlds and a super happy experience.
Some Tips and tricks:
USD and Indonesian Rupiah is widely accepted currency However, It is better to carry Indonesian Rupiah as well else you'll be at a loss in exchange in USD.
Take a local number SIM as soon as you land in Bali as that will be very convenient in coordinating with the locals.
Take enough sunscreen as Bali experiences a tropical climate throughout the year where the temperature does not fall below 24 degrees.
Be very careful while exchanging money since the fraudsters confuse you with the amounts and two extra zeros Rupiah has got and very smartly pay you less. Hence it is recommended that you should get money exchanged only from reliable exchange counters though a little pricey.
Almost all activities other than fixed entry spots engage in good bargain. So always hassle for a good price.
Basic English is understood at all tourist points. Additional advantage is Indonesia following phonetic language.
DAY 1 – Seminiyak & Ubud Village
Places Covered: Seminyak sight seeing
Places to visit: Ubud village, Coffee plantation, Rice terraces, Monkey forest, Tanah lot temple.
Coffees plantation: This is an interesting experience where the caretaker of the farm explains you the process of preparation of the world's most expensive coffee (luwak coffee made by the poop of an animal. yes, u read it right!!!) You even get to taste 16 different types of coffees for free like jasmine coffee, rose coffee, coconut coffee etc. Out of them we loved cocoa coffee the most. The guide will then take you through the various plantations of the farm including fruits, vegetables, and herbs etc.
Time taken: 1 hour
Entry fees: 00
Cost of luwak coffee: $4 for a cup
Rice Terraces: A location with superb view and abundant freshness!! Huge mountains cut in step-like pattern to enable them to store water for plantation of paddy. Wow. Just wow. Guided Day treks are also available for rice terraces.
Time (just sight-seeing): 30 minutes
Entry fees: USD 1.5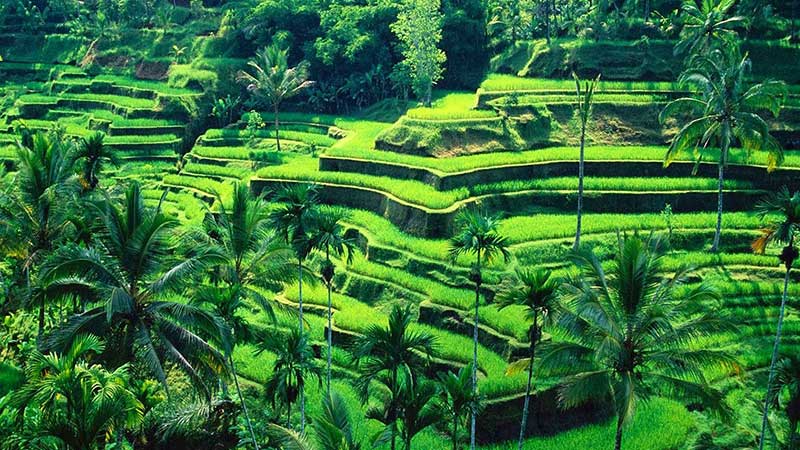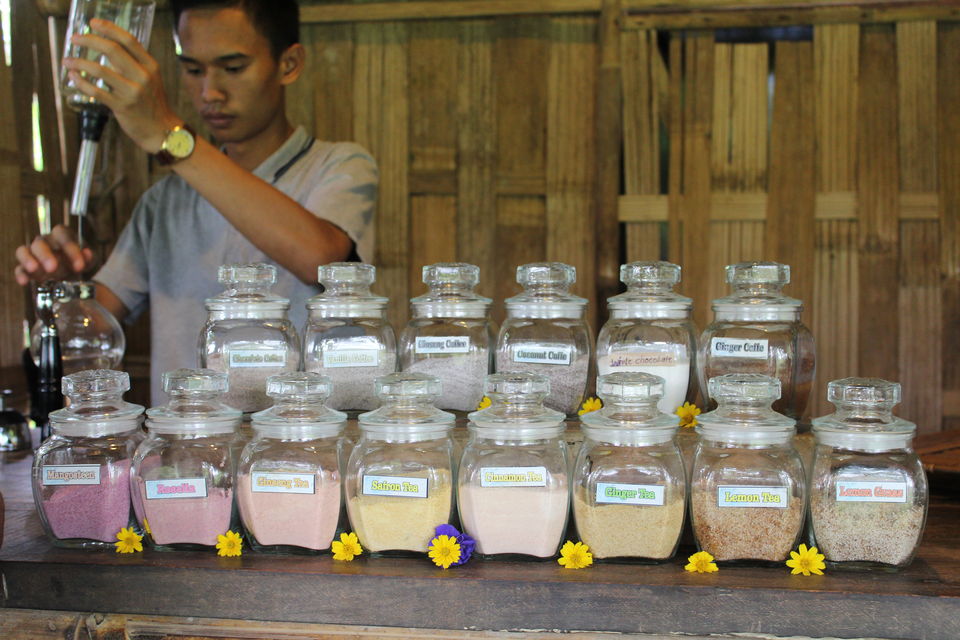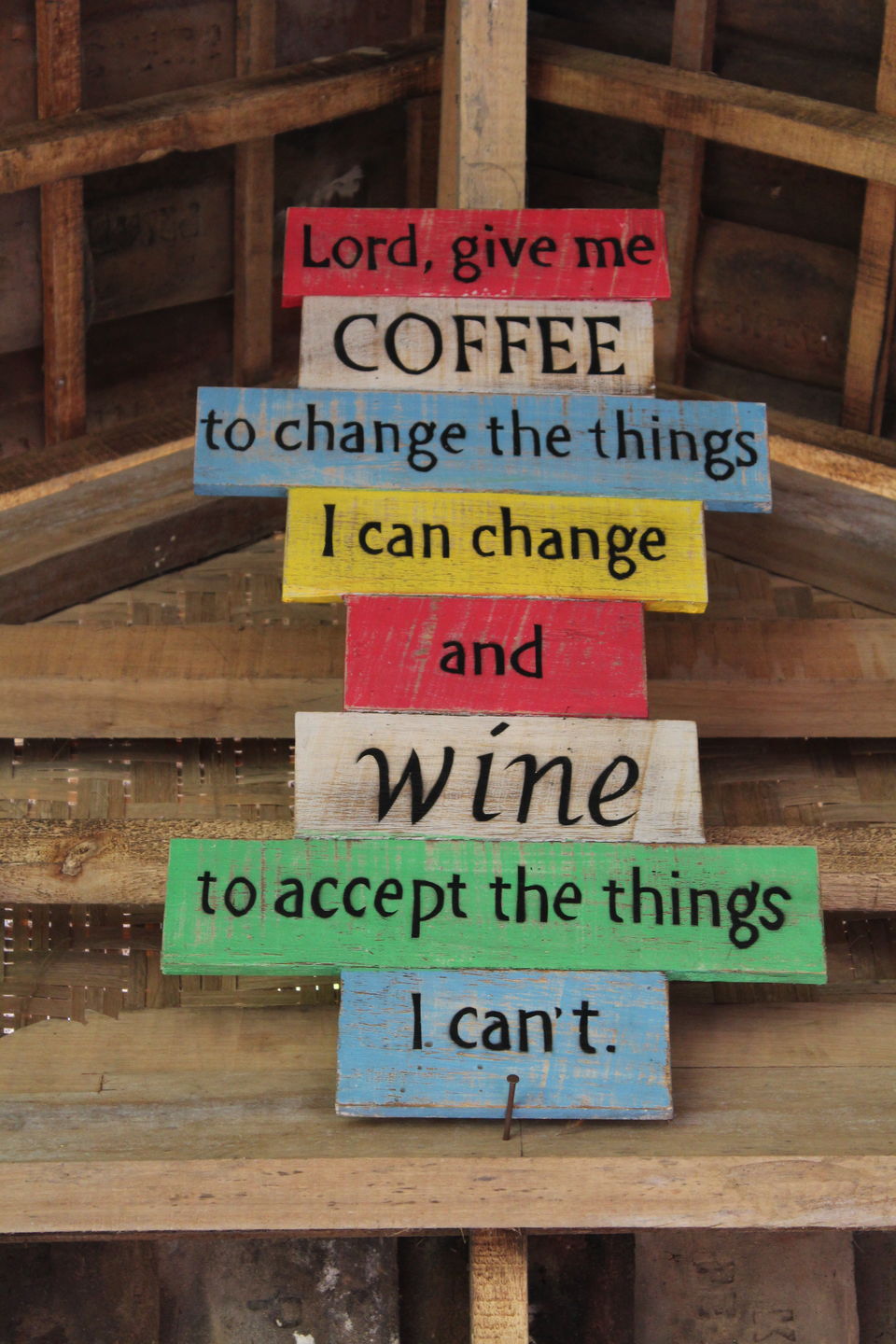 Ubud village: Ubud village is a traditional village depicting various kinds of handicrafts and artisans like silversmith village, goldsmith village, batik art village. Artistic and handicraft items are available for sale as well. It's a wonderful place for art and culture lovers.
Time taken : 2 Hours
Entry Fees: 00
Tanah Lot Temple: This is the signature location of Bali on Google. A Hindu temple, in the middle of the water from where the view of the sunset is mesmerising. Entry inside the temple is restricted for tourists. However, the aura of this most famous temple is just worth a satisfying visit.
Time to Visit: During Sunset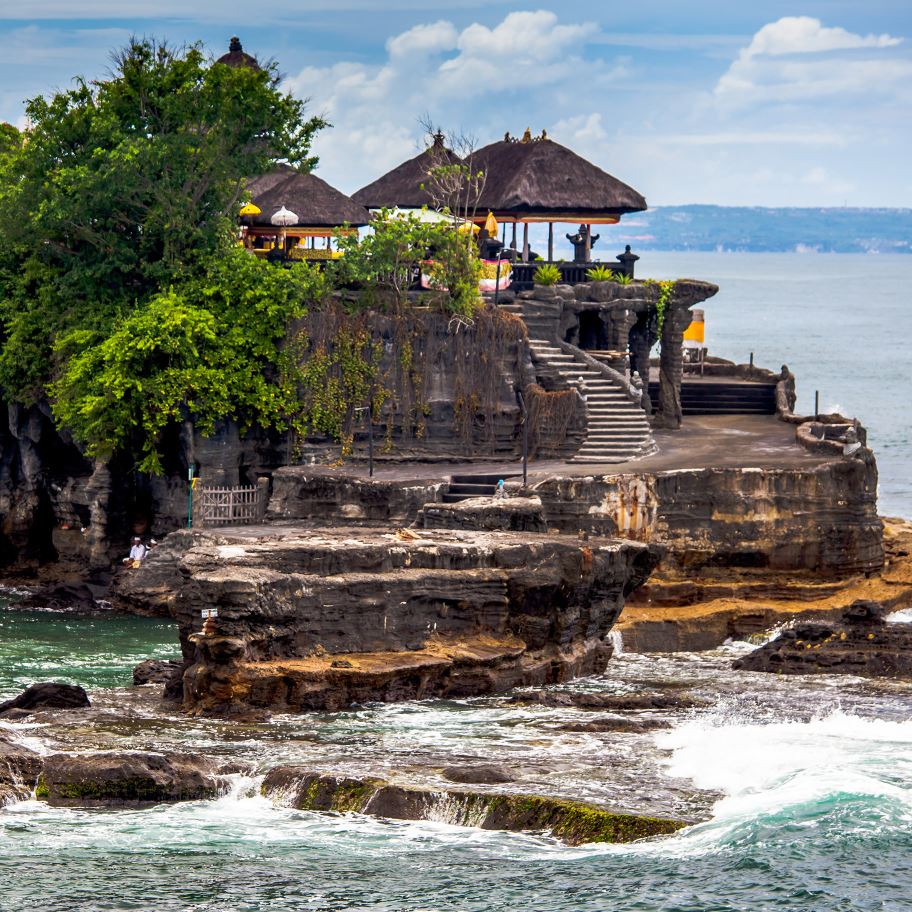 Monkey Forest: Ubud monkey forest: this place has got monkeys, monkeys and monkeys. It is considered to be a sacred place for Balinese people. This place is very popular with tourists of western countries. Indians could give it a miss since India has also got a lot of habitats where monkeys can be seen.
Time Taken: 1.5 Hours
Entry Fee: $3
DAY 2 – Seminyak to Lembongan island
DAY 3 – Return from Lembongan island and Seminyak local sight seeing
Inclusions: Seminyak square and Rock Bar
Your evening will be spent at a place with an unforgettable and miraculous view. The Rock Bar, Ayana spa and resorts. It's like a huge extended balcony located just above the water. You can descend down through the stairs or take a ropeway to reach the Rock Bar…Hmmm so how about a glass of wine, best beats in town and dashing waves against your wall!!
Time taken: till the time you don't back from the beauty (Recommended sunset view)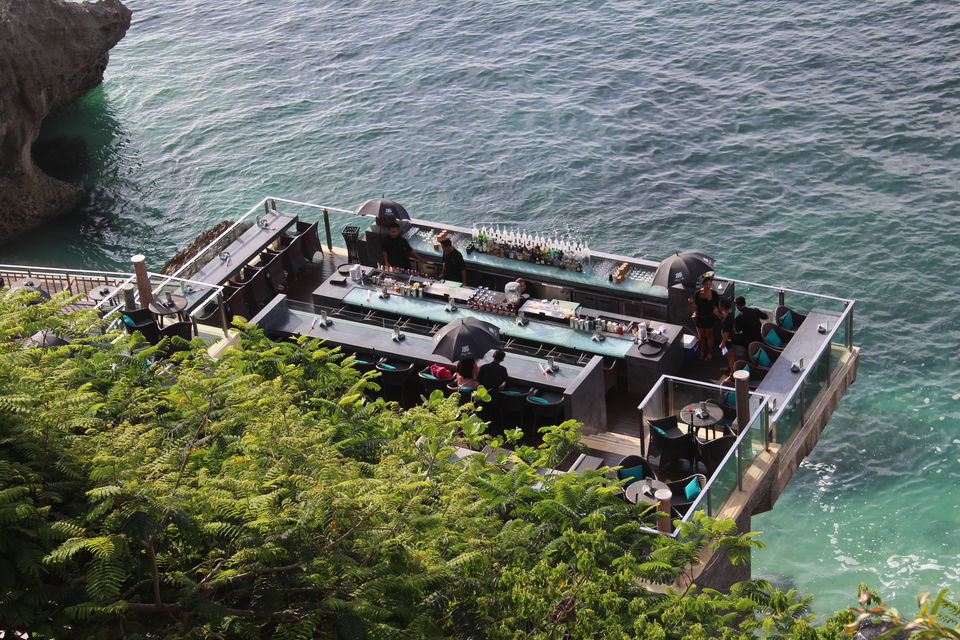 Seminyak Square: Return by mid-morning from Lembongan and head towards the very happening seminyak square located in the heart of Seminyak. This street has a never ending collection of high end boutiques, branded show rooms, multi cuisine restaurants, beach clubs with picturesque views, awesome spa centers and a lot more. So this afternoon is all yours to relax or hog or shop till you drop.. Go for it!!!
Time Taken: 2-3 Hours
Cost: Your credit card limit 😉
DAY 4 – Lovina Beach and Transit from Seminyak to Nusa Dua
Places to visit: Lovina beach early morning tour, Bali Collection and Devdan Show
Lovina Beach: This day is going to be one helluva ride. Start your day as early as 3 in the morning for reaching Lovina beach which is a classic place for dolphin viewing. There are guided tour operators who pick you up from your hotel, transfer you to a speed boat and take you to a point where you will get to see the migration of hundreds of dolphins. Then if u are lucky enough, u will witness innumerable pods of dolphins at a time. The view, the scenery, the sunrise is to die for. I can bet that sacrificing your sleep for this experience would be totally worth it. Then the guide lds you towards the natural Gitgit falls. The waterfall is beautiful but you will have to step down a small trek which is slippery so you need to be careful. Spend around an hour at the waterfall and then proceed for an artistic delight, the ulun darun beteran. This temple is located in the middle of the water with peculiar Balinese architecture and tiered shrines. Very famous for its location, this Hindu Balinese temple has 11 tiered shrine of Lord Vishnu, 7 of Lord Brahma and 3 tiered shrine of lord Shiva. Though you are not allowed to enter in any of the Balinese temples, the garden area, the fresh air (due to its height and proximity to a mountain) and the cool waters of the lake make the atmosphere and visit very memorable.Time taken: 3:00 a.m. to 1:00 p.m.
Cost:Post your return from Lovina beach, check out from Seminyak and enter the paradise of Bali, Nusa Dua.Nusa dua is the most posh area of Bali. It is a very peaceful and beautiful area with premium resorts and classy areas like BTDC (Bali Tourism Development Corporation). We loved loved loved Nusa Dua to the core.Inclusions: Check in, Devdan show
Check in: Try staying in a hotel in the BTDC area since almost all resorts in BTDC have a beach line or a very close proximity to the coastal line. We had stayed in Novotel (Close to the beach) and Ayodya resorts and Spa (On the Beach property) and absolutely enjoyed the experience.
Devdan Show: If you want to truly understand the culture and traditions, festivals, beliefs, history of Indonesia, Devdan show is one point contact for all of these. The show is undoubtedly one of the best shows in the world which lasts for 90 minutes. Hundreds of actors portray the cultural journey of various places of Indonesia like Java, Sumatra, Bali, Thousand Islands, and Papua etc. through dances, acrobatics, fire shows, water shows, skillful performances, areal shows etc. It is a must must watch for any person who admires art and wants to know the culture of the place. It is an educational show with a visual delight.
Time taken: 90 minutes (7:00 p.m. to 8:30 p.m.)
Entry fee: $35 Per person
Night is for you to discover the lovely Nusa Dua stretch of beach and night life.
DAY 5 – Nusa Dua excursions
Inclusions: Water Sports, Bali Collection, Pacifica Museum
Water Sports: Benoa beach which is located next to Nusa Dua Beach is the ideal and busiest spot for satisfying your adventurous interests. Various kinds of water sports are organized at Benoa coast like banana boat ride, Sea walker, Parasailing, Scuba diving, Flying fish, Jet Ski and fly boarding. Out of the above, fly boarding is new, unique and a must try if you are good at balancing your body in waters. The Water Sport companies arrange for a complimentary to and fro travel from your hotel. They also provide photography/videography options with an additional cost. If you are planning to do multiple activities, it is recommended that you take the activity package for the same which will fetch you good discounts.
Time Taken: 3-4 Hours
Cost – USD 60 for fly boarding, USD 60 for all the other activities.
Bali Collection and Pacifika Museum: This is a grand shopping center in BTDC area which has got exclusive brands, Spa, footwear, accessories, Souvenirs, restaurants, supermarkets etc. A place to go happy shopping, eating and rejuvenating.
Pacifika Museum is a museum with collection of art work in Asia Pacific. It is a very well maintained museum which aims to preserve and display art work of the entire Asia Pacific region.
Time taken: 2-3 hours
Entry fees: 00
DAY 6 – Optional Places:
Gili islands tours,
Uluwatu temple,
Kinta Mani day tours.Other optional activities:
Pearl farming at Atlas south sea pearl farm,
Perfume making in Ayana Resort and spa,
Bali Night safari,
Waterbom Water Park.Must visit beach clubs in Seminyak (Especially for sunset):
Woo bar – W retreat resorts,
Potato Head Beach club,
Ku De Ta Beach club.