Rishikesh (Part 1)
Rishikesh (Part 1)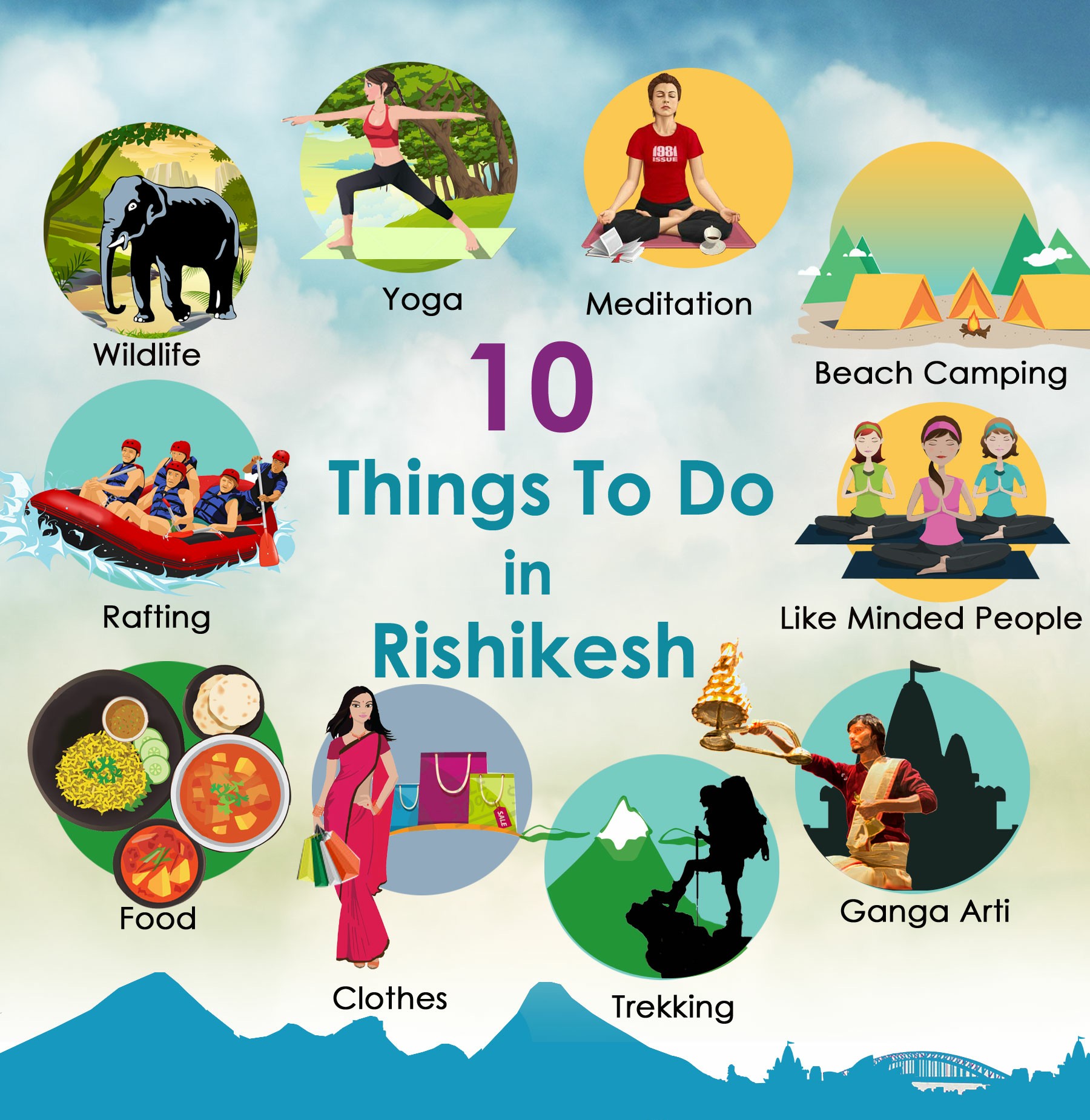 "What sounds do you hear?" Asked my friend. "Only the ones of flowing river and chirping birds" was my reply while sitting on the banks of river ganga at Parmarth Ashram . Such tranquility can be experienced only in the lap of Himalayas. Rishikesh will leave you spellbound in its magic. I, along with my friends visited this city of Rishis in November 2016. We did bunjee jumping as daredevils, camping as hippies, white water Rafting as adventurers and ganga arti as devotees of the first order. We reached rishikesh early in the morning and our itinerary goes like this..
Day 1
Bungee jumping
This activity is just beyond description. Jumpin heights is the highest point for bungee jumping in India measuring 83 metres and undoubtedly the best. They have a fixed number of people whom they accommodate in a day and dont over stuff at the cost of safety. Pre booking is advisable. The trainers are experienced and qualified having certification from new Zealand. After signing the indemnity letter and watching sample video i went up the plank for my jump. The trainers up there fit the harness and make the other safety arrangements. They pump you up for the jump but wont push u. You are given 3 attempts to jump. I had millions of butterflies in my tummy flying, dancing and rolling all over. I was sure that the more i wait and look down, the more nervous i ll get. So at the first count, HERE I GO to take THE LEAP OF FAITH. I felt like a bird, weightless!!! My stomach felt empty and mind was experiencing a vacuum. The feeling was so good that i didn't want the ride to end at all. It was AWESOMMMMMEEEEEE. Within fractions of seconds, I went down, moved like a pendulum twice and my ride got over. There are people at the bank of the river who help you take off the tied arrangements. You get a I HAVE THE GUTS certificate and the tag which i still see frequently and the whole jump gushes past my mind like it happened just now. A must recommended activity for all adventure seekers.
Cost : Rs 3500 with video
Camping
After the epic jump, our excitement was building up even more since this was also the camping day on the banks of holy river ganga at shivpuri.
Our camp organizer got us transferred to the camping site. When we reached there, our mouths were wide open for nearly 10 minutes (actually it was just 2 minutes. Rest 8 minutes were for creating anxiety in viewers..;-)) anyway it was INSANELY BEAUTIFUL.. Awesome Tents right on the banks of ganga, crystal clear water of ganga at half a minute walk (like literally half a minute) , ultra soft powdered white sand, surrounded by mountains on all sides and NO MOBILE NETWORK WHATSOEVER. The camps were perfect, had electricity, were very well maintained and exactly like shown in the pictures. Now comes the highlight of the place-the washroom. In spite of being on the outskirts the washrooms were surprisingly clean. An extra brownie point for the superbbbb food served. After playing for 3 hours in ganga we freshened up to play badminton, Volleyball, dart game in the evening. In the night, we sat around bonfire listening to music, dancing, barbecuing and enjoying the dinner. Later, we sat outside our tents and chitchatted about work, life, ghosts, politics and all other possible crap till 4 in the morning ;-). We called it a day since the another Rockstar awaited us next morning – river Rafting.
Pro tip – please enquire well before planning camping since the government bans the camp sites on the banks of ganga every now and then. So the camp organisers arrange for other places (like an artificial lake or other river with black sand) which are good but ganga has its own charm.
Cost : Rs 2000 for camping and Rafting
Day 2
Rafting
Next morning was for the MAHA activity. I am from Mumbai and we have done river Rafting before in kolad in maharastra in an artificial dam water so we knew whats what in river Rafting but what we didn't know is Rafting in Rishikesh is far far far different from anywhere else in india. It can be done in different levels-12 kms, 24 kms and 36 kms. While 36 kms Rafting is restricted for only trained rafters, you should NOT do anything less than 24 kms. The camp person picks you up from the camp site at the Rafting start point – marine drive. After basic training of around 15 minutes we ventured into the freezing water. A guide with a go pro accompanies the raft. There is also a dry bag where you could keep your cash and cellphones but advisable to keep only little cash (for Maggie and chai at maggie point) .
And here starts our roller coaster ride of rapids, waves, ups and downs. We desperately waited for rapids and wished they kept coming again and again and yet again. We enjoyed each of the 14 rapids of grades I, II and III thoroughly but our favorite rapid was "golf course" . It was a rapid of level III and left all of us awestruck. Other rocking rapids were sweet 16, double trouble, 3 blind mice. The guide makes you play interesting games on the raft, in the water, gives you difficult dares, lets you get down in the water at safe locations. It is strictly advised to get down only at guides instructions since other places could be risky due to formation of whirlpools. Almost nearing the end of the trip there comes a cliff measuring 25-30 feet from where you can jump into the water. all the rafts halt at this point. This gotto be experienced. It is advisable to jump in the position instructed by your guide to be safe. Our Rafting ended in the next 15 minutes from here 🙁
All in all, out of various adventure activities tried by me till now, Rafting surely is the best and the most exciting one. I can keep doing it umpteen times.
Time taken 4.5-5 hours
Evening ganga aarti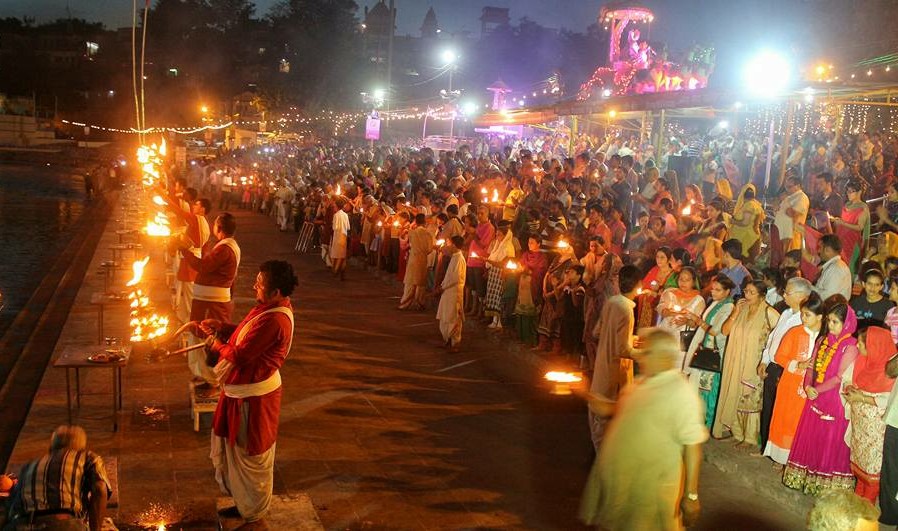 Every evening around 5.30-6 p.m., a grand ganga arti happens at the triveni ghat.. i.e.the holy River of ganga is worshipped. We went there as early birdies so as to witness it closely. From a Saint to a student to a localite to tourists from round the world, this place happens to be in everyone's bucket list. On the banks of river are lined up 15-20 rishis doing similar actions, submissions, and arti movements in perfect sync. It is literally a treat to witness this arti.. Do come here to feel the importance river ganga has got in people's hearts.. U ll end up with similar feelings for rest of your life..
Entry fees – no fees to worship the holy river!!
Time – 1 hour
All in all, we were bowled out by the unique charm of Rishikesh. A special corner in the heart reserved now, and forever !!! 🙂