Gokarna – Immensely Hippie & Intensely Holy
Gokarna – Immensely Hippie & Intensely Holy
Pristine beaches, phenomenal cafes and positive vibes..These 3 p's sums up our short trip to Gokarna. A Peninsula on the borders of Karnataka, Gokarna is considered the peaceful and cheaper version of Goa. Secluded beaches, private shacks and a foreigners frequented hippie place make it an ideal vacation destination.
Our itinerary is as follows . . . .
Day 1 Mumbai – Ankola – Gokarna
Prema restaurant
We took a train from Mumbai to Ankola. Gokarna lies at a distance of 30 kms from there. A rick helped us reaching Gokarna by noon. We were hungry as wolves by then and hit the all talked about prema restaurant at Gokarna beach. Going by the looks of the place, my friends decided not to go in but i take pride in saying that it was one of the finest decisions of my life to eat here. The food was lip smacking. A very ordinary looking eatery served us the yummiest of idli, dosa, curd rice, pizza. Their signature dessert 'gadbad icecream' was also great. This extremely light on the pocket hotel gave a super start to our trip.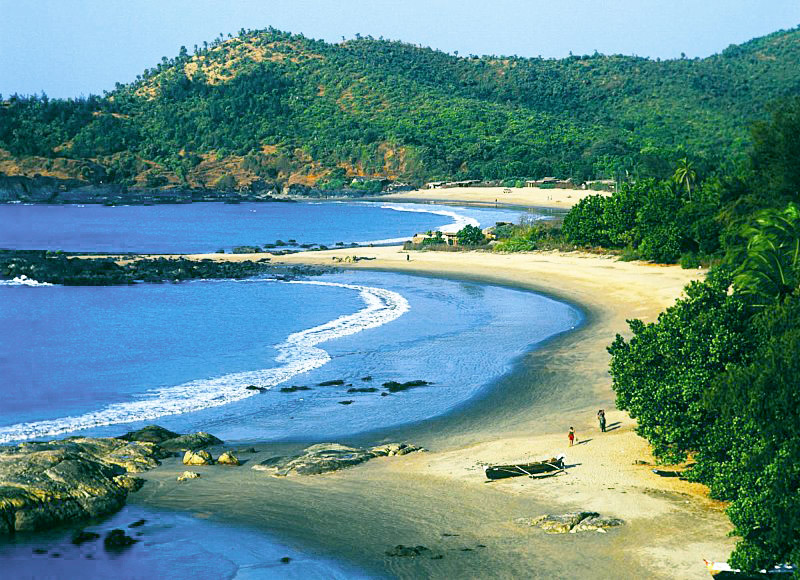 Om beach and namaste Cafe
It was already 3 p.m. by the time we checked in our hotel. We freshened up and started for om beach. This beach is damn clean and less crowded too.. It got its name from the "om" shape made by the shore. We spent quite sometime on the om beach till dinner time. We had our dinner at the only option available on the beach – namaste cafe. Breathtaking view is the usp of the cafe. Food is good not great though.
With this our day 1 ended in gokarna
Day 2
Inclusions: Yana caves, Vibhooti falls, Murudeshwara temple, Echo beach.
This was an eventful day since we had planned a road trip from gokarna till murudeshwara and back while visiting all the sightseeing points on the way.. It is highly recommended to go on a road trip as the roads are too good and covered by lush greenery on both the sides. Scenic and simply superb!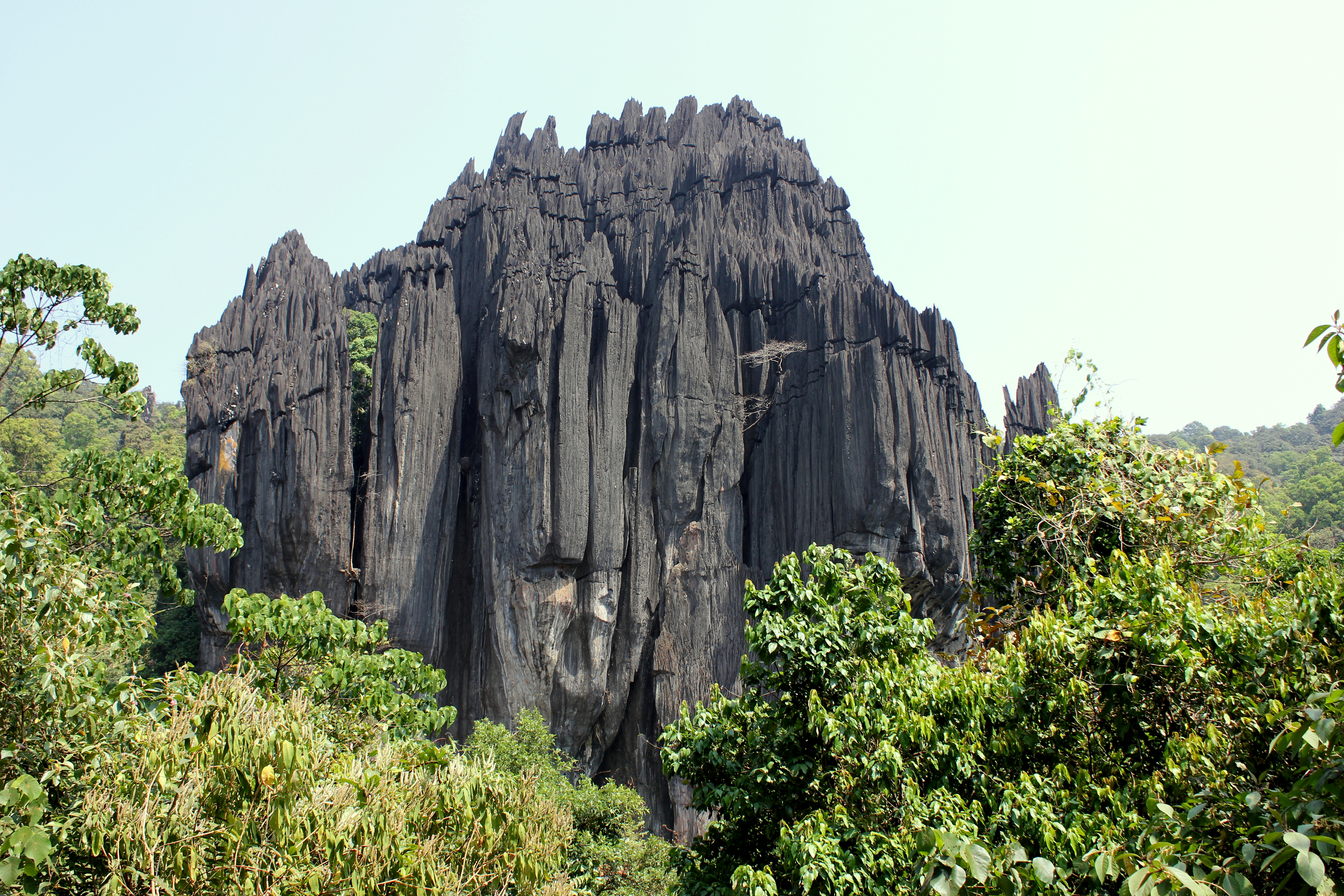 Yana Caves: These unique giant rock formations are located near Kumta district. These 2 high hills are formed of limestone. Each hill has a temple inside it. The pandit there explains the story of these formations very well. It is said that a demon (Bhasmasur) pleased lord Shiva and sought a power to destroy anyone by keeping his hand on the person's head. He thought of testing it on lord Shiva himself when Vishnu came in a female (Mohini) avtar and attracted him to dance like she does. She placed her hands on her head and he, forgetting about his powers copied her thus burning him to ashes. Thats the reason for the rocks being so dark. The names of the two hills are also kept basis the story as bhairaveshwar shikhara (shiva's peak) and mohini shikhara (mohini's peak).
You reach the place after trekking for about a kilometer. The way is isolated and covered with dense forest. Might be difficult for old people to walk.
Once you reach the bigger hill (bhairaveshwara shikhar) you have to remove your slippers to go inside the caves since it is like doing a pradakshina of the temple which is at the bottom of the caves. A visit inside the caves is a must!!
U have only limited options like dry snacks to eat so carry little food along. These caves are totally worth a visit because of its uniqueness.
Entry fees : parking fees of Rs. 10
Time taken : 1.5 hours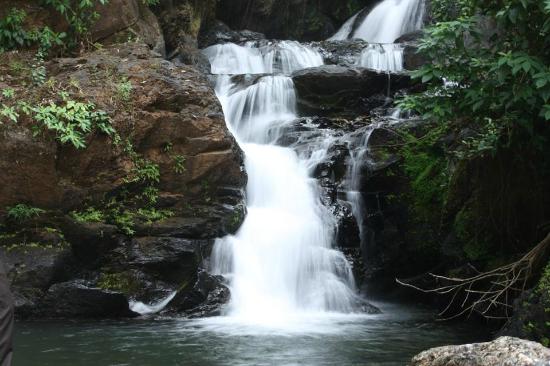 Vibhooti falls – Very close to the yana caves lies the vibhooti falls. The place gets its name from the proximity to limestone rocks.. The best part about these falls is that 1.They let u go to play in the falls and 2.they are cascading falls with 2-3 steps so the level of waters will always be controlled at each level. When we reached the falls,we were the only ones there so it was like a private fall arranged just for us 😉 we enjoyed the moderate jungle trek for reaching the falls as much as the the chilled water of the falls. Worth a visit for some relief from a sunny day.
Entry fees -nil
Time taken – 1.5 hours
Pandurang- While leaving kumta, we had our lunch at pandurang hotel on the main road. Food was delicious and dirt cheap. I recommend to halt on this road (few hotels lined up on that lane) for food since the options on this route till murudeshwar are quite limited.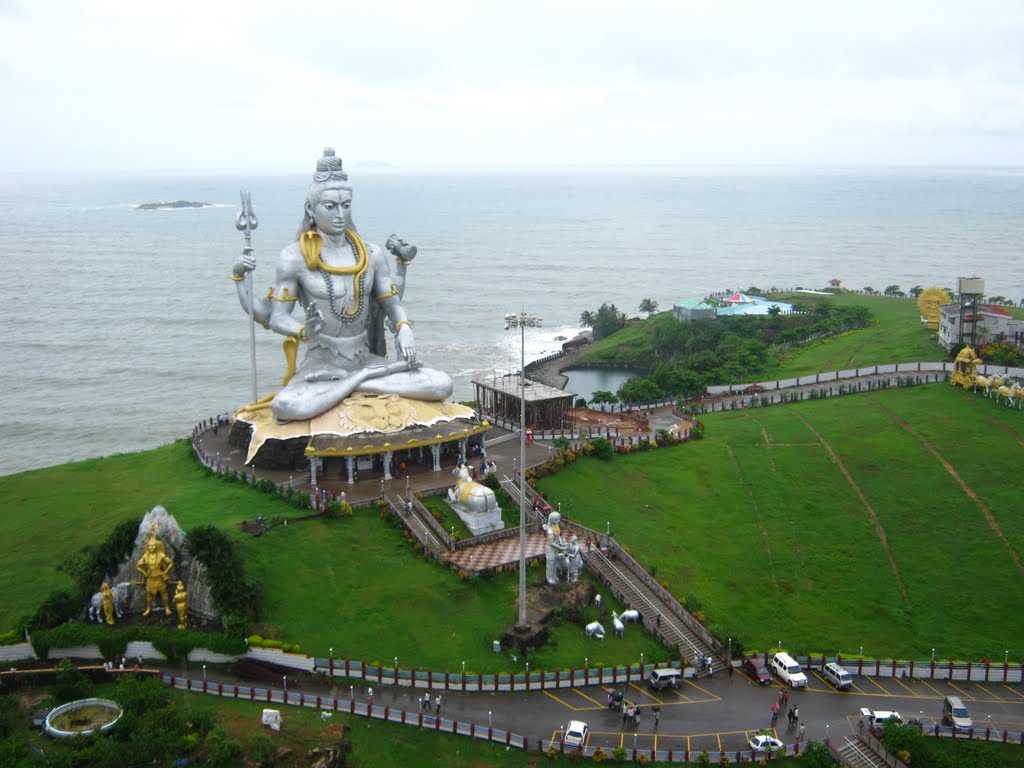 Murudeshwar– The highlight of our entire trip was Murudeshwar. A supeerrb temple and a huugggge statue of Lord Shiva is located right on the Murudeshwara (meaning Shiva) beach. There is a mighty and amazingly carved gopura of 18 floors. The elevator service would take you to the top from where you could have a fantastic view of the statue and the temple. The statute holds the record of being Lord Shiva's second highest idol after the one in Nepal. Its built in a way that it gets direct sunlight and hence it shines bright forever. The gopura is also said to be one of the highest gopuras in the world. The temple,built on a small hill is surrounded by waters on three sides. The entire temple is modernised except the sanctum sanctorum. Your trip to gokarna just cannot be complete without visiting Murudeshwara. Its fresh breeze,sound of the water and positive aura will leave you spellbound.
Time taken: subjective, on how much you want to absorb serenity and divinity. Best time to visit would be evening before sunset.
Cost for elevator: Rs 10.
However difficult it was to depart from the beauty, we left Murudeshwara for our way back to gokarna.
Echo beach- on the way, we halted to visit a beach , echo beach. We were surprised to see nil shacks, nil people, nil activities on the beach. secluded and super clean! Recommended for a short visit.
With this our extremely hectic but equally rocking day came to an end.
Day 3
Today we were all set to see the supremely brahmin angle of the Gokarna village. Kothi teertha and area around is the best place to experience it. Kothi teertha meaning a crore springs is sacred a small tank of fresh water. Brahmins here bathe in the holy lake for purification and also perform religious rituals here . This place, over time has become extremely dirty and just be visited to witness the good old malgudi days..
We then visited the very famous Mahabaleshwara temple. Perfect example of dravidian architecture,this temple is often called the "kashi" of the south (meaning it is revered as much as Kashi and rameshwaram) . We saw pooja,darshana, abhisheka happening early morning at the place. The temple also serves free meals (prasadam) to all at two times of the day.
We then had breakfast at "1987 cafe",a cool cafe with beds and mattresses instead of chair. Yummy food (especially the pancakes and upmaaaaa), good vibes and great service! Kudos!!
After hogging on to yummy breakfast, a long walk was much needed and what better place to have a walk than a clean and long beach!! Off we go to Kudle beach which is hardly 10 mins walking distance from the cafe. A damn clean beach with lots of shacks and restaurants, this beach is the largest of all the beaches of Gokarna. We were informed that the peak season sees a multi-fold jump in the number of shacks, activities and people at the Kudle beach. We enjoyed our time thoroughly at the Kudle beach, walking, clicking pics and collecting beautiful and varied sea shells. This beach is most popular with tourists and hence is most commercialized in the months of December and January with Melas and all getting organized for the foreign tourists. A must visit beach in Gokarna!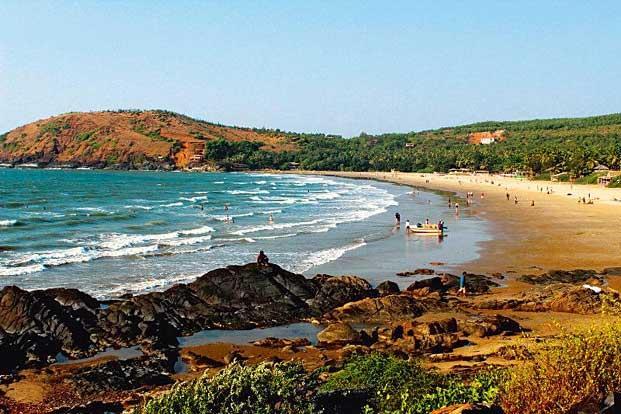 Lunch at white elephant- We then had a late lunch at the restaurant of white elephant (resort where we were staying) . The place's location is the best offering most amazing view.. prices on the menu were on the higher side but I think that's the premium they charge for the awesome view.
Half moon / Paradise beach– Post lunch we decided to visit paradise beach which is a small and a damn clean beach. It's covered like 70% with rocks. This beach is only accessible through a trek from half moon beach (which is also accessible via trek from om beach) or u have to take a ferry from om beach (taking a ferry from Kudle will be costlier) .since we had gone in monsoon,the option of ferry was not available. This place had started to become permanent lodging for foreigners so the government imposed a stay on any kind of commercial activity here. You won't get any stay or food options here. So get your camps set and make your own food. Fresh water well available for drinkable water. We were a big group so thoroughly enjoyed camping, singing and cooking. Recommended for groups,if u are alone, you could return in the ferry or trek back to half moon and then to om beach (pls don't take a chance of trekking back at night).
Places to Stay
My suggestion in the order of preference for stay are
1) White elephant resort (superb view of Kudle beach)
2) Om beach resort (only and the best option at om beach)
3) Zostel (budget travelers paradise, amazing view of Gokarna beach)
Overall it was great to visit this popular hippie hub. You were awesome, Gokarna..!!! 😃