Scintillating Sikkim – Part 2
Scintillating Sikkim – Part 2
Visit Scintillating Sikkim – Part 1
LACHUNG
Meaning 'small mountain', Lachung is an absolute treat to the eyes. Comparable with valleys as beautiful as in Switzerland, Lachung is majorly visited for yumthang valley and zero point. Having said this, you cannot underestimate the stunning viewpoints along the way from gangtok to lachung…
Viewpoints enroute Lachung/Lachen: tashi view point, naga waterfall, chumthang valley, varying hues & force of the mesmerising teesta river..
Zero point: end of motorable road, covered with snow for the entire year, close to the indo china border, splendid views! Do you need more reasons to visit zero point?
Pls note two important points before heading to zero point- one, at such great height, it may be little difficult to breathe and two, you would need a special permit to visit the place.
Yumthang valley: a valley with breathtaking views, yumthang is known for its rhododendron flowers. It is in full bloom from april to may every year. Even otherwise you gotto visit yumthang for the fantastic views of surrounding mountains, flowing teesta and endless valleys. Trust me, yumthang is a view to die for!!
Yumthang hot springs: at a place where right from rooftops to water in commodes is frozen, it is simply unbelievable to have natural hot springs! Like reallyyyy… A 5 minutes walk from yumthang valley would take u to the lively and vibrant hot springs which are not only magical but also medicinal. Visit the hot springs and a natural bliss is sure to happen.
Places to stay in Lachung:
The yarlam hotel – this is the most expensive luxury hotel in Lachung. You may book yarlam if u want a larger than life experience even on a remote hillock.
Etho metho – amazing Mid budget hotel and more amazing people to greet and meet. My first pick for lachung.
Royal lachung – budget friendly hotel, oldest of the lot with homely services.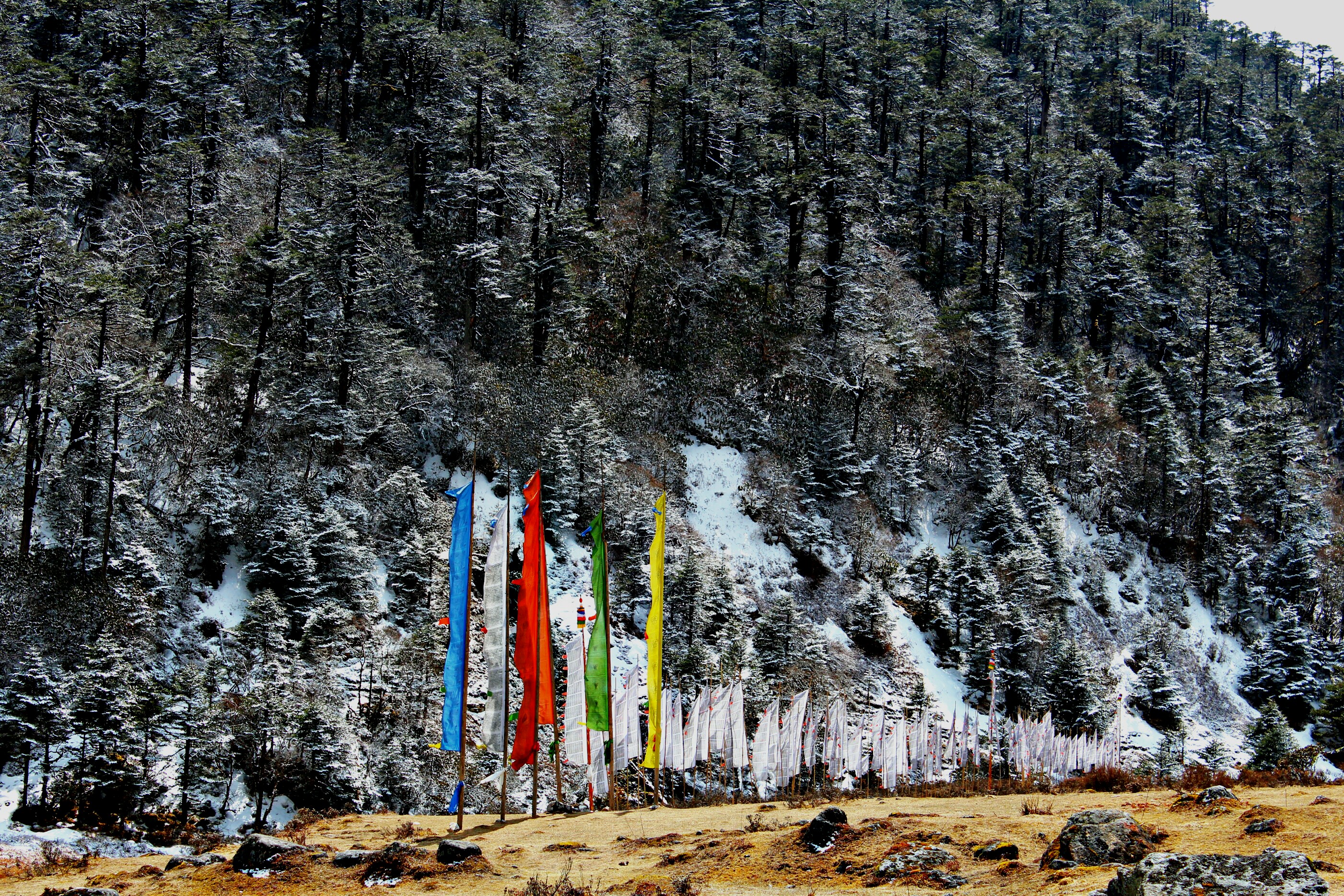 LACHEN
Lachen means 'big mountain' and is the halting point for people visiting gurudongmar lake.
Gurudongmar Lake: this holy lake is located at a height of freaking 17000 feet above sea level. This makes it one of the highest lakes of the world. The dense coverage of military, the changing hues of mountains from black to brown to white, gushing teesta river will make your journey as mind blowing as the destination. We halted at a local's house for maggy and tea which were like saviours in the chilled weather (even here, the commodes of the house had frozen! Thinking about how these folks here even poop..).. anyway, after 5 hours of tedious ride, we finally reached there. And my my my..i couldn't believe my eyes. Heaven was right there.. glimpse of inner peace, esthatic views and frozen lake!! Just a small part of the lake never freezes as it was blessed by a guru to meet the water needs of the area.. At -13°c, it was soo chilly that we could not keep an inch of the body uncovered.. we went to down the lake and filled some holy water for its known to have healing properties. A few pictures here and there and we left as we felt light headed and difficult to breathe. Could spend only 20 minutes and i can surely say that those 20 minutes were the best 20 minutes of my life..
Important tips: The way from lachen to gurudongmar is horrible. It would take good 5 hours so u need to start really early.
Its damn cold so carry warm clothes.
Low oxygen makes it difficult to breathe so take medicines along.
While returning,do stop at the army canteen and have momos;they are considered to be the best in entire sikkim.
Places to stay in lachen: most of the hotels are 2-3* but the people and service they offer here are 5* .
Apple orchard: probably the only luxury hotel in lachen, this is best suited to guests who want to spend time in hotel have an elongated stay in lachen.
Blue pine : my favourite place to stay in Lachen as it boasts amazing hospitality, yummmy food and shining snow mountains in the backdrop..
Food: there are no separate restaurants in Lachung or Lachen so your food options would be limited to the meals served at your hotel.
Travel:
Gangtok – Lachung – Gangtok:
Leave in the morning from gangtok, reach lachung by late afternoon seeing all the sights on way; overnight stay at lachung. Next day visit zero point, yumthang valley and hot springs before having lunch and then onward journey to gangtok..
Gangtok – Lachen -Lachung – Gangtok:
Depart from gangtok, reach lachen by evening seeing sights on the way. Overnight stay at lachen. Next day start very early for gurudongmar lake, have lunch after return and leave for lachung. Overnight stay at lachung.
Start early the next day for zero point then yumthang valley and hot springs. Post lunch, leave for gangtok. Reach gangtok by late evening.